We went to college. We met and dated. We fell in love; five years later we got married and started our own greatest love story.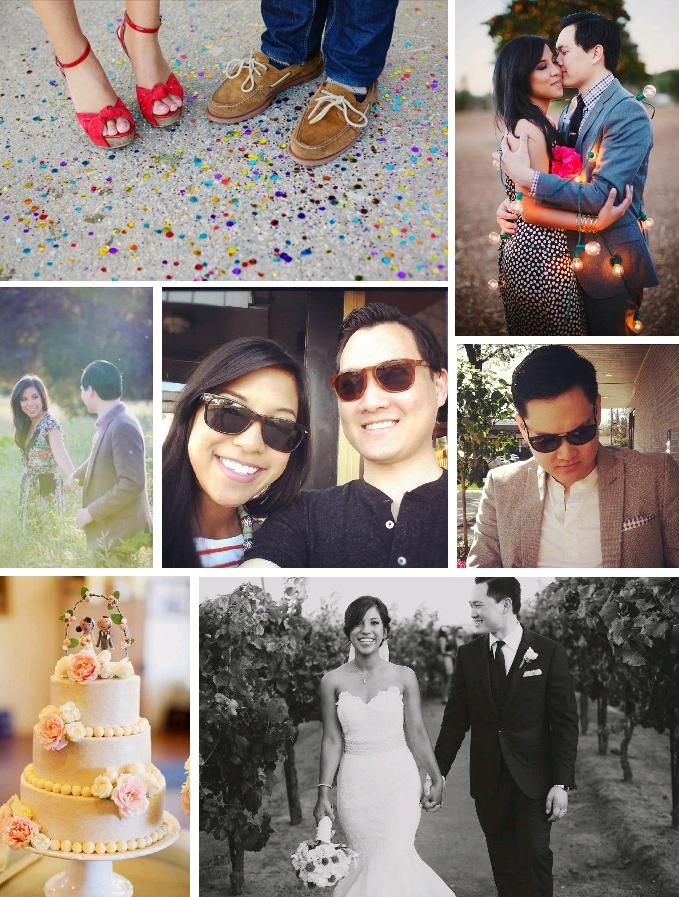 He is Henry.
Drums. Coffee. Cheesecake. Thoughtful. Pharmacist. Music. Creative. Burritos. Extra cupcake frosting. Button down shirts. Great shoes. Hilarious.
He claims that Amanda loves getting tickled and denies that she despises it because she laughs so hard when he does it-- she must like it a lot.
She is Amanda.
Cupcakes. Crafts. Teacher. Tea. Quirky. Marzipan. Nurturing. Neapolitan style pizza. Colorful. Polka dots. Vibrant florals. Silly. Eclectic. Running. Hazelnut chocolate.
She apparently thinks that several of his "different colored" argyle socks look the same and sometimes views Henry's search, for the right match, through rolled bundles in the drawer as a fun scavenger hunt-- she's just trying to make getting dressed more exciting.
Together we are...
Happy. Learning. Imperfect. Growing. Trying to build closer relationships with Christ. Unconditionally in love. Dorks. Persevering. Supportive. Obsessed with "Friends". Top consumers of Justin's Maple Almond Butter. Ready for the future together-- forever.
No, we don't have children yet, but we have three furry pancakes.

Pancake #1: Ellie, a.k.a. "Elbow Pad"
Sweet Ellie is our almost 9-year-old Golden Retriever. Amanda got her as a puppy right before senior year in high-school. After her second year in college, Ellie moved up to Northern California to stay with her. Ellie enjoys basking in the sun, running in open fields, Fuji apples, and is very good with people. She loves attention and is one of the most gentle dogs you may ever meet! Don't make any sudden movements though as she tends to get scared easily-- she's just so sweet she can't help it.
Pancake #2: Sophie, a.k.a. "Sofa Bean"
Sophie is our baby! She will do anything to stay as close to us as possible-- this works out in the winter when she doubles as a foot warmer. Sophie is almost 5-years-old and is a Queensland Heeler mix. We rescued her after a family found her, barely 4 weeks old, with her sister underneath several fallen wood crates near a factory. Unfortunately, her mama was nowhere to be found and her other siblings didn't survive the accident. Regardless of her tragic puppy story, she is the most upbeat, happy, and energetic dog we have in the house. She loves sleeping upside down, asking for endless belly rubs, and showing off her amazing reflexes by catching treats you throw at her as fast as you can.
Pancake #3: Harlin, a.k.a "Haribo Bear"
Harlin is the most precious Staffordshire Pitbull you may ever meet. She's got the sweetest eyes that make you melt just by looking at her. Harlin actually belongs to one of our best friends who is busy starting up an amazing career overseas. In the meantime, this pup stays with us and although we are not officially her owners, she has definitely become a part of the family! Harlin loves playing on the carpet with Amanda and is especially fond of showing off her body-crawling moves when she's in a good mood. This dog is extremely strong and if she's feeling good, it's always a good idea to back away from her tail-- that thing is like a happy whip!
We are married with pancakes and delightfully living life as much as possible!
"All I ever wanted, all I ever needed, is here in my arms". -- Depeche Mode