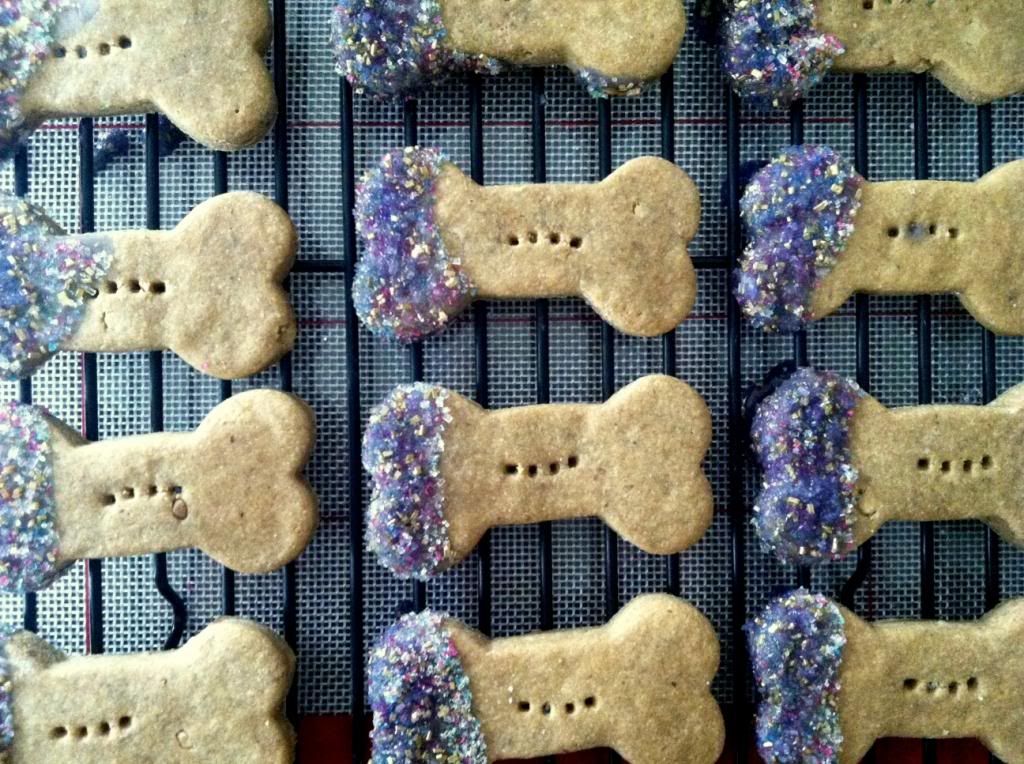 I am not really sure when my love for dogs began to take-off. Growing up in my family, we had our share of dogs, but I don't really recall when I went from liking these furry creatures to being over-the-top in love with them. Whenever I see a dog or a puppy, I tend to get an instant serotonin boost. Usually, this is followed with an audible squeal. This is totally normal behavior for a 25-year-old, just to let you know.
When I was a teacher, my students became quite familiar with this passion of mine as they were often the inspiration behind several math problems. They loved hearing about my own three dogs. So, I guess my craze for dogs isn't that bad since it helped motivate 4th and 5th graders to learn, right?
Well, regardless how you feel about dogs, you may enjoy this recipe I created for homemade doggy treats. They are all natural and very simple to make. Each ingredient is safe for most dogs to eat. I did use a little bit of decorative sugar to finish off the biscuits, but with such a small amount in each treat it is hardly an issue. If your pet has an allergy to any of these ingredients, I would avoid making them.You know your own furry friend best.
My dogs LOVED these. I let them sample a piece before I began decorating them. Afterwards they were sitting and watching very closely hoping that one might fall off the table for them to devour. I hope your pets enjoy them, too!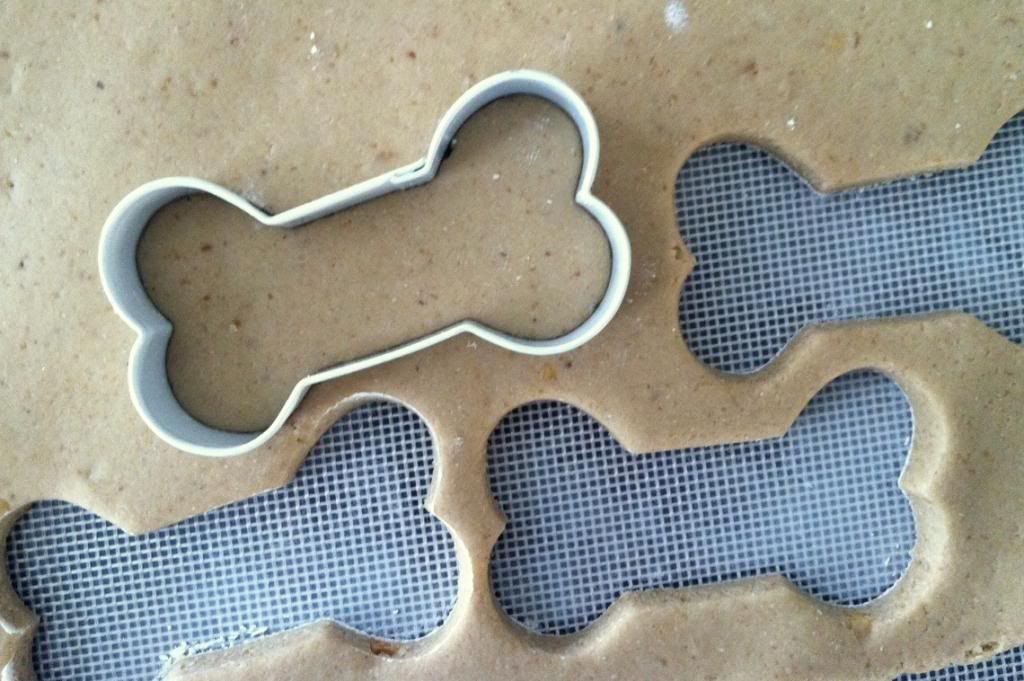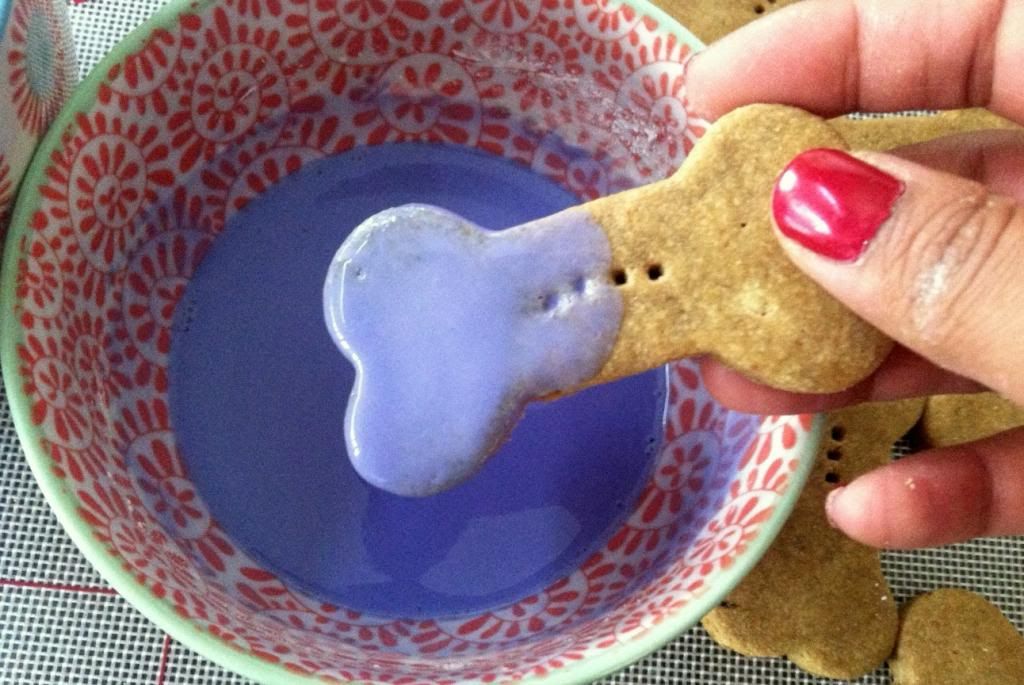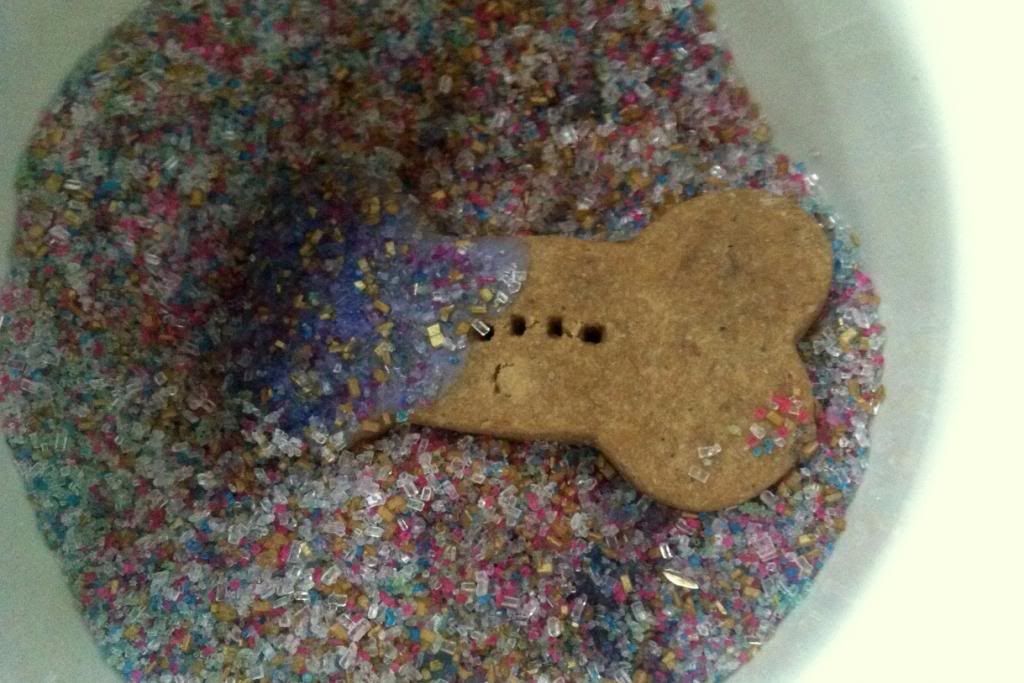 Homemade Doggy Treats
makes about 40 4" dog biscuits
3 large ripe bananas, mashed
3/4 cup unsweetened natural applesauce
3/4 cup 100% natural chunky peanut butter
1/4 cup honey (I did not use raw honey due to some controversy on the safety in consumption.)
2 large eggs
4 1/3 cup oat flour
1. In a standing mixer with the paddle attachment, combine the bananas, applesauce, peanut butter, and honey. Mix on medium until everything is well combined. Add the eggs one at a time.
2. Slowly add the oat flour into the wet ingredients. Stop and turn off the mixer occasionally to scrape the bottom and sides of the bowl with a rubber spatula to ensure even mixing. The dough should be very thick and stick to the paddle attachment. It should feel moist, but not too wet when you touch it (similar to the texture of pie dough)
3. Gather and knead the dough for a few seconds on a lightly floured surface. Use a lightly floured rolling pin to roll out the dough until it is about 1/4 inch thick. Use a cookie cutter (I used a 4" dog bone, but you can use whatever you like; be sure to adjust your baking time according to the size of your treats) to cut out treats and place them on baking sheets lined with parchment paper. Roll up any scraps of dough into a ball and then repeat the cookie cutting process to make as many treats as possible (my dough yielded about 40 treats).
4. Use a fork to gently prick the middle of each uncooked biscuit. Gently use your finger to hold down the dough while pulling the fork away to allow a clean removal.
5. Bake the treats in the middle racks of the oven at 350 degrees F. for 25-30 minutes. They should be firm and golden brown on the bottom. Transfer them to a cooling rack and allow them to cool down completely before decorating (this is optional and the treats are just as beg-worthy without it).
Icing
1/4 cup corn starch
2 1/2 tbs. cold water
1 tsp. honey
1 drop of food coloring (optional)
sugar sprinkles (optional)
1. In a small bowl, whisk together the corn starch, cold water, and honey. The consistensy should be thick, but still a little runny (similar to Elmer's Glue). If desired, add a drop of food coloring and whisk to combine.
2. To decorate the treats, gently dip one side into the bowl. Turn the treat to coat the front, back and sides of the decorated portion. Hold the treat above the bowl and gently shake off excess icing.
3. Dip or place the treat into a bowl of sugar sprinkles, remove, and shake off excess. Place the decorated treats on a cooling rack to allow them to dry completely (3-4 hours).
4. Store these treats in an air-tight container. They should stay fresh for up to 3-4 days at room temperature, but they will last longer if you store them in the refrigerator.
Just like all treats, allow your pups to enjoy these in moderation.
*Note: These treats are NOT similar to hard biscuits. I found that the icing will continue to be runny and will drip off the treats. If that bothers you, don't use the sugar-free icing. Until I try out better methods, please remember that I am not a doggy treat specialist, just a girl who loves finding ways to make her pups happy. :) xo.