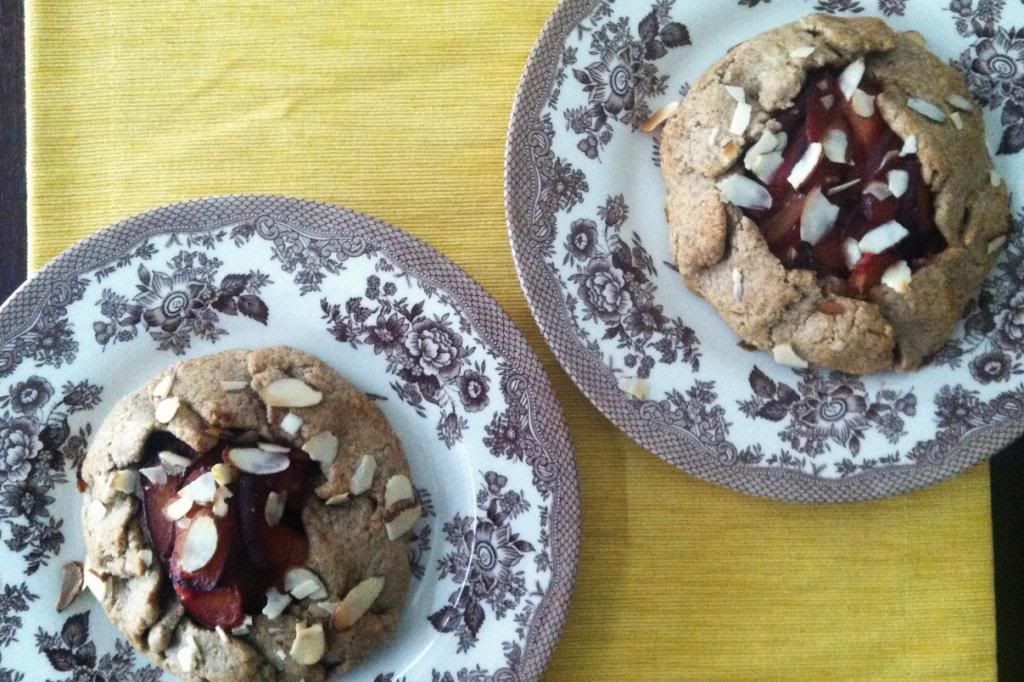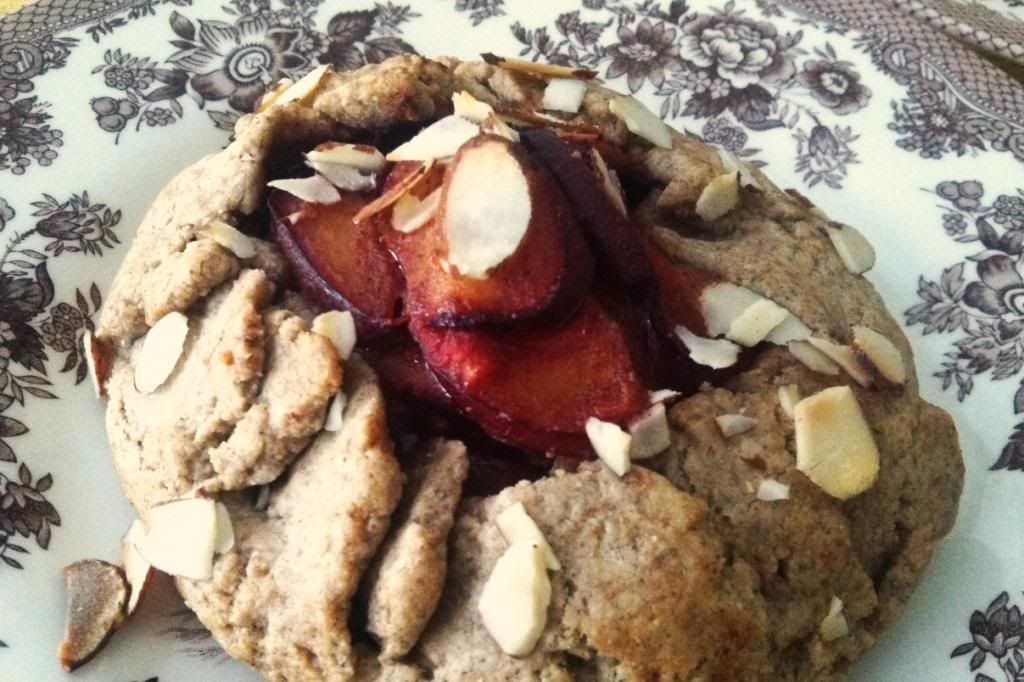 Let's be honest. Pastries for breakfast should always be a win. Whether it be in a cafe, bakery, or even your own kitchen, the smell of freshly baked buttery goodness in the morning is an absolute delight. However, leave it to my jeans to be the party pooper and remind me that too much victory over pastries in the A.M. will leave much defeat in my waistline.
For this reason, I am always trying to come up with healthier ways to enjoy a breakfast "dessert". This morning I looked over at a bowl of vibrant plums for inspiration. Much too tart for me to enjoy fresh, I thought they might be more pleasing lightly sweetened in a flaky crust. A few ingredients and a little vanilla extract spill on my counter later, Mini Plum Crostatas were born. I was pretty pleased with the results and loved the personalized size-- perfect for an A.M. date. The crust is delicious with its great almond flavor and the fruit filling is tart yet sweet. The best thing is that this can be made with several other fruits. Well, maybe the best thing is that I can eat this for breakfast and dessert...and I don't have to feel absolutely guilty about it. Win. Win. Win.
Mini Plum Crostatas
makes 2 5" crostatas
Dough
1/2 cup almond flour
1/2 cup oat flour
2 tbs raw sugar
1/2 tbsp cinnamon
1/4 tsp salt
3 tbsp cold unsalted butter, cut into pieces
2 tbs cold almond milk
1 egg + 1/2 tbsp water (for the egg wash)
Filling
1 1/4 cup thinly sliced ripe plums (feel free to substitute this with any stone fruit, apples, or berries; add the juice of 1/2 a lemon if you do-- I did not since my plums were quite tart)
2 tbsp raw sugar
1 tbsp pure maple syrup
1 tbsp ground cinnamon
1 1/2 tsp vanilla extract
*sliced almonds (for topping)
1. In a food processor, pulse together the almond flour, oat flour, raw sugar, cinnamon, and salt until they are well combined. Add the cold butter and pulse the mixture just until everything becomes crumbly and begins to look like sand. While the processor is running, slowly pour in the almond milk. The dough should form a mass and pull away from the sides of the processor. Pour the dough out onto a lightly floured surface and lightly knead it together. Divide it evenly into two portions, wrap each in plastic wrap, flatten into 3/4 inch thick discs, and chill in the fridge for 30-40 minutes. Meanwhile, prepare the filling.
2. In a small bowl, combine the plums, raw sugar, maple syrup, cinnamon, and vanilla extract. Allow the mixture to rest while you preheat the oven to 375 degrees F.
3. When the dough is ready, remove them from the refrigerator and roll out each disc into an approximate 6 1/2 inch round on a floured surface. The dough will seem fragile and may break apart-- don't worry and just press it back together. Place the rolled dough pieces onto a baking sheet lined with parchment paper.
4. Use a spoon to place half of the fruit mixture onto the middle of each prepared crust. Use your fingers to gently fold the sides of the crust up. It doesn't have to be pretty or perfect-- crostatas are rustic and care-free! :) If there are breaks or gaps, simply use your fingers to gently press the dough together again.
5. Prepare the egg wash by mixing together the egg and water. Brush a small amount onto the surface of the crostata crusts. Sprinkle some sliced almonds onto each crostata and bake in the middle rack of the oven for 25 minutes or until the crust is lightly golden brown.