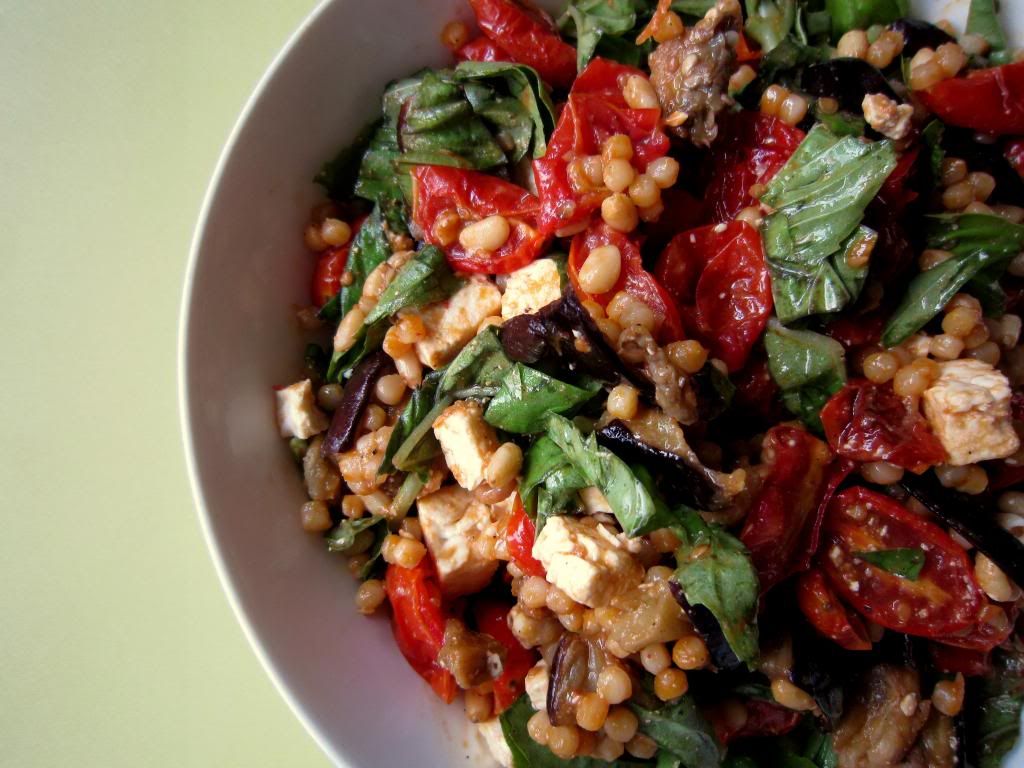 This is an old recipe I created a few years ago when I was still writing as "Yumology"
on Wordpress. I wanted to re-post this salad because it is absolutely delicious. I love all the flavors present in this dish as they are warm and earthy with some mild sweetness, yet refreshing and light. Roasting vegetables always brings out a much more vibrant flavor and this salad is no exception. Give it a go! It's a lovely compliment as a side dish or even a meal in it's own. I am sure it would be great with some roasted chicken for more protein.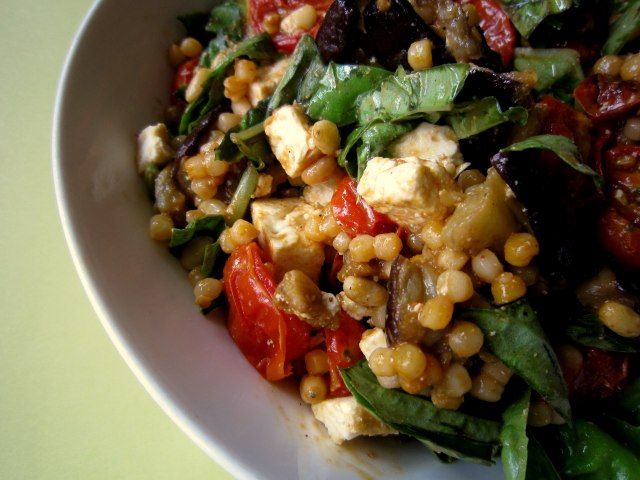 Roasted Eggplant & Tomato Couscous Salad
Makes about 4-5 cups
*the amount of vegetables looks like a lot, but they will reduce down after roasting*
3 cups cubed (about half of a medium sized eggplant) Italian eggplant
3 cups halved sugar plum tomatoes (or grape)
3 1/2 tbsp extra virgin olive oil (divided use)
2 tsp salt (divided use)
1/2 tsp pepper (divided use)
1/2 cup Israeli couscous
1 cup low-sodium vegetable broth
1/4 cup water
1/4 cup light/reduced fat feta cheese, crumbled or cubed
2 cups chopped fresh basil leaves
1/4 cup dry roasted and unsalted pine nuts
salt and pepper
For the dressing:
3 tbsp red wine vinegar
1 tbsp balsamic vinegar
1 tbsp lemon juice
Preheat oven to 325ºF.
1. Place eggplant cubes on a lightly greased baking sheet in a single layer. Drizzle 1 tbsp of extra virgin olive oil over, sprinkle on 1 tsp salt and 1/4 tsp pepper, mix, and place back in a single layer. On separate, lightly greased, baking sheet, place halved tomatoes in a single layer with their interiors facing up. Drizzle 1 tbsp of extra virgin olive oil over, and sprinkle on 1 tsp salt and 1/4 tsp pepper. Bake for 45-50 minutes. Remove the baking sheets from the oven and let the vegetables cool.
2. In a small sauce pot on medium heat, heat up 1/2 tbsp extra virgin olive oil. Add couscous and stir. Cook until couscous becomes lightly browned (about 5 minutes). Meanwhile, in another small sauce pot, bring the vegetable broth and water mixture to a low boil. After the couscous is browned, slowly pour in the boiling broth mixture and stir. Bring couscous and broth to a low boil, reduce heat to medium-low, and simmer until couscous has absorbed liquids (about 12 minutes). Season lightly with salt to taste. Remove from heat and set aside.
3. In a small bowl, combine ingredients for dressing. In large bowl, combine the couscous, eggplant, tomatoes, pine nuts, feta cheese, and basil. Pour in the dressing and mix gently to combine. Season with salt and pepper to taste.