Blueberry Mocha...what?!
I know, it sounds odd. The first time I heard of this flavor combination, I definitely was perplexed. About a month ago I was walking down Haight Street in San Francisco and stopped to get a pick-me-up at a tiny cafe. Blueberry Mocha was on the menu and I was sold on trying this specialty beverage. I was so surprised by how much I enjoyed it! It tasted like chocolate covered blueberries mixed with my espresso. I couldn't get enough-- it was love at first sip.
If you're a Peet's Coffee fan, you may know that they have a seasonal Blueberry Mocha beverage available right now. Naturally, I became giddy when I learned of this and have ordered it the last few times I visited my local Peet's. The drink was my inspiration behind this brownie recipe and I am pretty delighted by the results.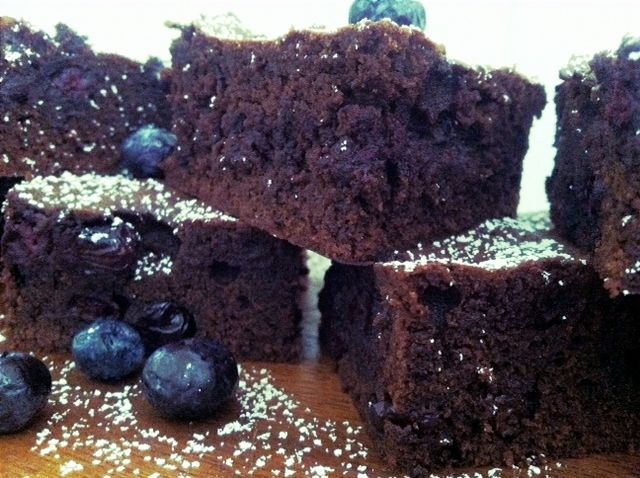 By default, rich chocolatey goodness = amazing. Throw a little espresso in to enhance the flavor and make it more interesting with a fresh and fruity blueberries-- yum! When the blueberries bake in the batter, their sweet juice seeps into the brownies making them a tantalizing treat.
Also, these bars are the perfect amount of sweetness and have a great chewy and fudgey texture. A good brownie is all about the texture! Enjoy.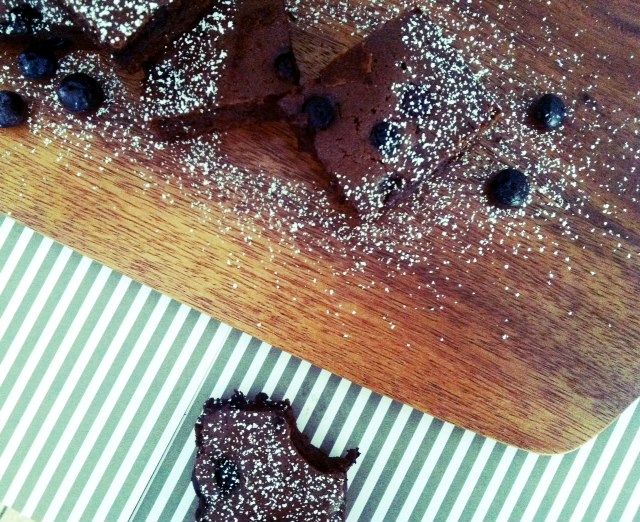 Blueberry Mocha Brownies
makes one 8x8" sheet of brownies
3/4 cup melted unsalted butter
1 cup brown sugar
3/4 cup white sugar
3 tbsp instant espresso powder
2 tsp vanilla extract
2 large eggs
2 egg yolks
3/4 cup unsweetened cocoa powder
2/3 cup all purpose flour
1/2 tsp baking powder
1/2 tsp salt
1/2 cup chopped dark chocolate
2/3 cup fresh blueberries (plus a few extra for topping)
1. In a medium bowl, use a hand mixer to cream together the melted butter, brown sugar, white sugar, espresso, and vanilla extract. Once the mixture is well combined (about 2 minutes), add the eggs and continue to mix on medium for another 3-4 minutes.
2. Sift together the cocoa powder, flour, baking powder, and salt. Slowly add these dry ingredients into the wet batter and mix on medium speed-- just until the batter doesn't have anymore dry patches. Fold in the chopped chocolate and fresh blueberries.
3. Pour and spread the batter evenly onto an 8" x 8" baking ban that has been greased and lightly floured. Sprinkle a few more blueberries on top of the batter. Bake at 350 degrees F. (on the middle rack) for 18-20 minutes. Do not over bake--the brownies will continue to cook after being transferred from the oven and you don't want to dry them out.
4. All the brownies to cool before cutting into squares and stuffing into your belly. :)