Today's DIY is all about the "F" Word.
Yes, you read me correctly. The "F" word.
Five.
What word were you thinking, eh?
These easy silk flower brooch take about
five
minutes to make and there are
five
steps needed to follow. Call it the "lazy girl's guide to style" if you must, but it's very simple! I love bold statement accessories and 1wearing flower brooches definitely falls into that category. I started making these a few years ago after seeing some adorable flower accessories in a retail shop. They were being sold for about $15 a piece. I took studied the merchandise carefully, but it didn't take me long to realize I could make the darn thing. This DIY uses already made silk flowers from the craft store. There are silk flower pins I like to make using fabric, but that's another DIY on another day.
So. Let's get to it! You're
five
steps away from being a delightful representative of the spring season.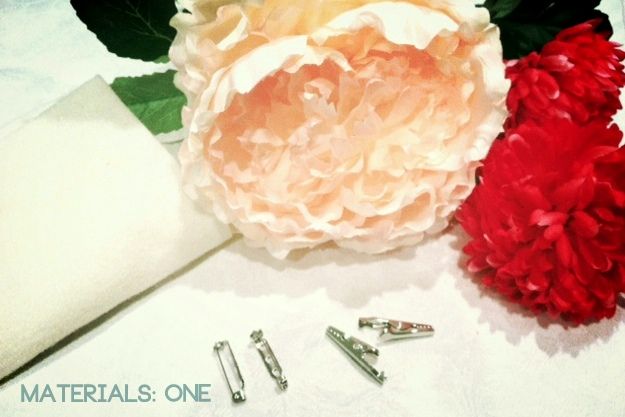 Step 1. Get it.This is an easy one. Get your materials. You will need: felt, silk flowers of your choice, pin backs, and alligator clips (optional). Scissors and a glue gun are not pictured, but you will also need these items.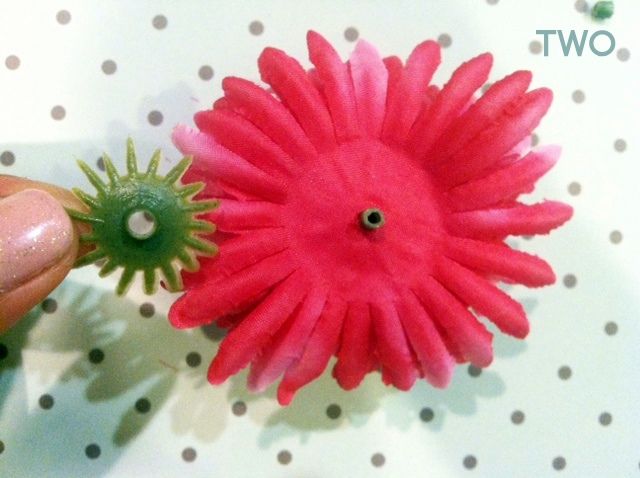 Step 2. Snip it. Use your scissors to cut the stem off and get as close to the silk flower as possible (leave a little nub to keep the petal layers from falling off). You can then remove the green stem cap (I'm pretty sure that's not the official name for that guy).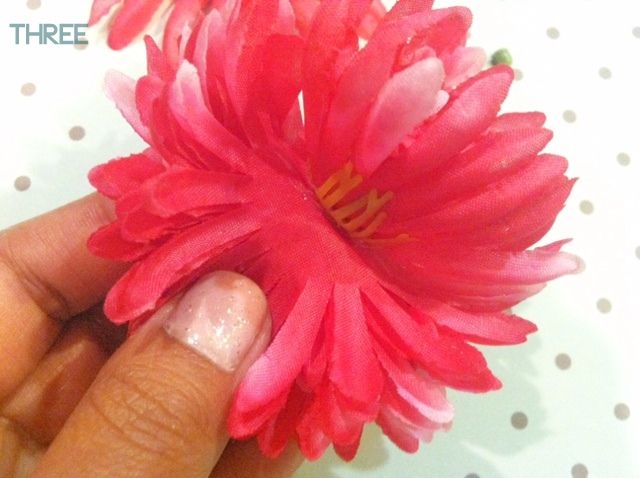 Step 3. Glue it. Use your glue gun and add a little hot glue in between each layer of the petal. Don't forget the backside and deep inside the center on the front of the flower piece. If you have any annoying hot glue strings, be sure to remove them.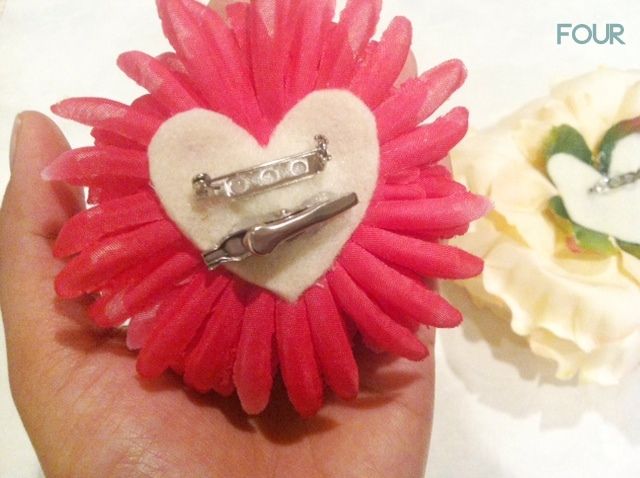 Step 4. We're still gluing. Take a piece of felt you have cut that fits the back of the flower (I made a heart, but you can just make a circle). Glue this onto the back of the flower-- make sure to secure it well. Then, glue your pin back and optional alligator clip onto the felt.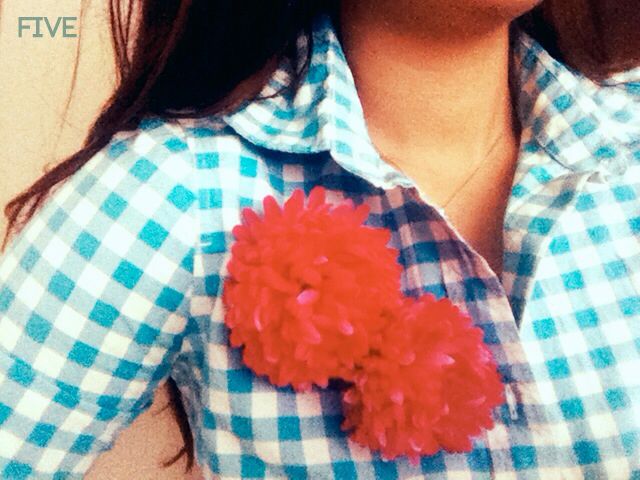 Step 5. Wear it. Repeat these steps with any other flowers you want to turn into brooches and add it to your outfit. I personally like to pair the flowers' texture and color to dresses or tops that won't seem to bulky with the added detail. I also look for color tones and see what works with the outfit.
The flower I am wearing with my black and ivory silk polka dot dress in my engagement photos (see
here on Married with Pancakes
) is one I made out of a fuchsia rose.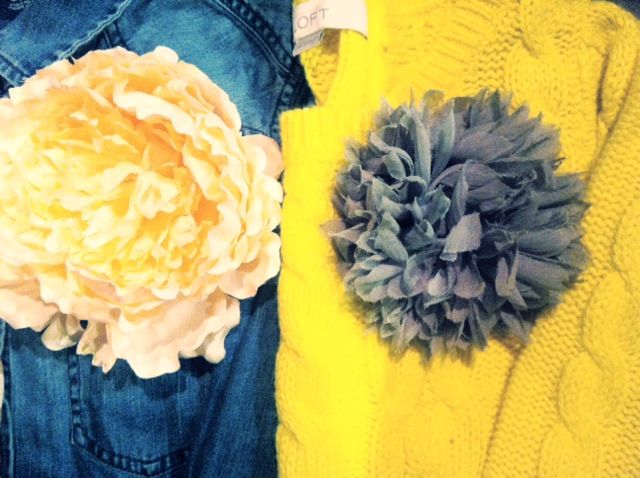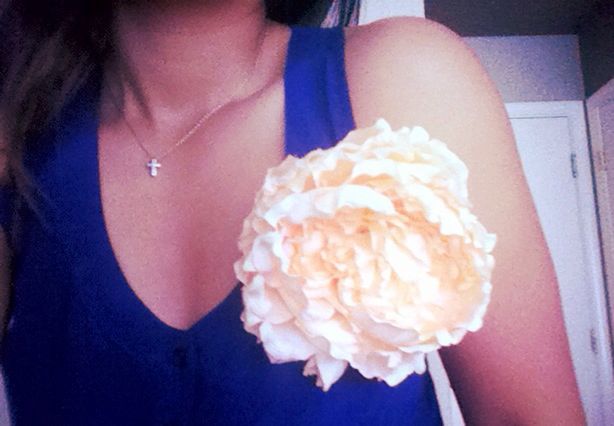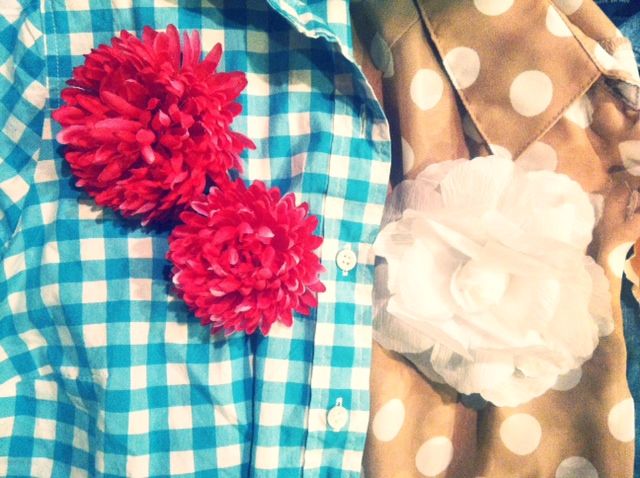 I hope this extremely easy DIY was helpful to some of you. I know there are other ways you make these. I've used wires and sewn thread through the flowers to secure the petals instead of using hot glue. However, they always end up looking the same and just as cute. My flowers don't endure a lot of hardship so there's really no need for me to worry about extra strong reinforcement. Like I said, call it the "lazy girl's guide to style" if you must! :) If any of you end up making these or already love pairing flowers with your outfits, I'd love to see some pictures!
P.S. Sorry about the awful lighting and image quality. I made these last night and my camera isn't too talented with better low-lighting images. On that note, we're hoping to get a nice SLR camera soon! Any recommendations for one?