Whoever made up the saying
"When life gives you lemons, make lemonade"
must have been a very positive person. Although it's not always an easy thing to do, I am a firm believer in living life through sunshine colored optimistic goggles. The phrase is one of the many reminders people have to take advantage of what you've got and make it better.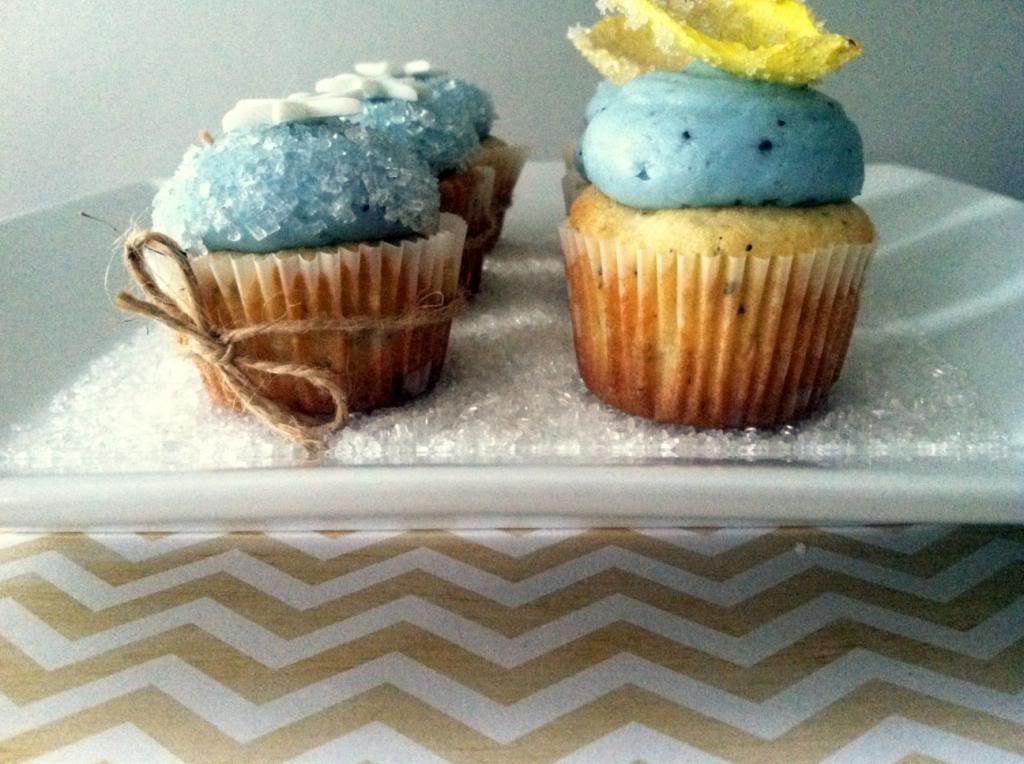 I'm all out of lemons at the moment, but today I am presenting optimism beyond a citrus fruit.
"When life gives you fresh roses in your home, make candied rose petals before they wilt".
Yea, so...I'm not sure that phrase will really catch on. I don't think society is ready for my oh-so brilliant and life-changing inspirational quotes. So, perhaps you can just view it as an option the next time you feel like dressing up your desserts in some fancy formal wear. That's exactly what I did with some bright and cheery yellow roses I had in my house. These crystalized petals became the most precious and delicate accessory to my Mini Earl Grey and Lemon Cupcakes. Actually, these baby cakes are so dressed up, if one could talk, it might request you address it as a Mr. Fancy Pants (yes, it's a boy).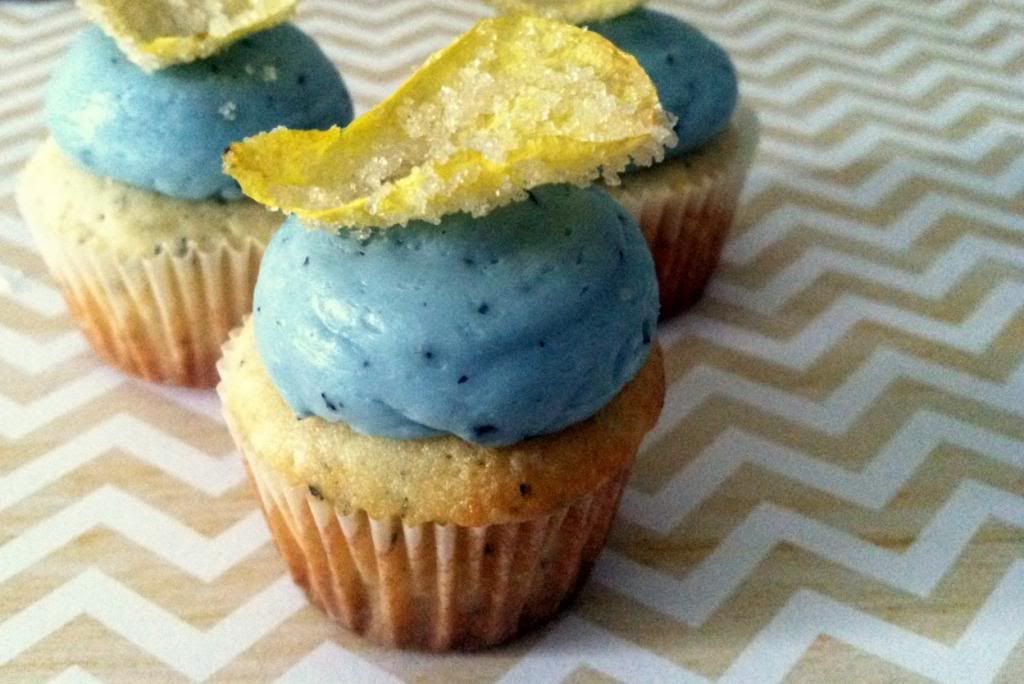 These candied rose petals were actually the inspiration behind this new recipe for cupcakes. The charming petals and their bright yellow hue had my mind flooding with lemony and floral flavored sweets. I was about to settle for making a recipe for lemon and rose cupcakes, but at the last minute swapped the rose for earl grey. Since the tea flavor has notes of bergamot, I thought it would be a lovely pairing with the lemon I had originally planned for. Plus, I just love earl grey flavored anything sweets.
The combination of flavors in these cupcakes are right up my alley. When I finished and sampled my creation by eating only a mini cupcake, I felt the wrath of my angry taste buds screaming for more (They've been upset with me since I've been watching my post-marital weight...we eat when we're happy--who doesn't?). I don't blame them. These cupcakes are divine. I hope you enjoy them as much as I did. Henry also loved them! I didn't think he would since, when it comes to cupcakes, he favors more of the rich flavors such as salted caramel or maple. There you have it. Another HSA (Husband Seal of Approval).
Candied Rose Petals
about 2 dozen unsprayed rose petals
2 egg whites, lightly beaten
1 cup white granulated sugar (I ran out and used some organic sugar which worked out fine, but I think the finer crystals would have been better)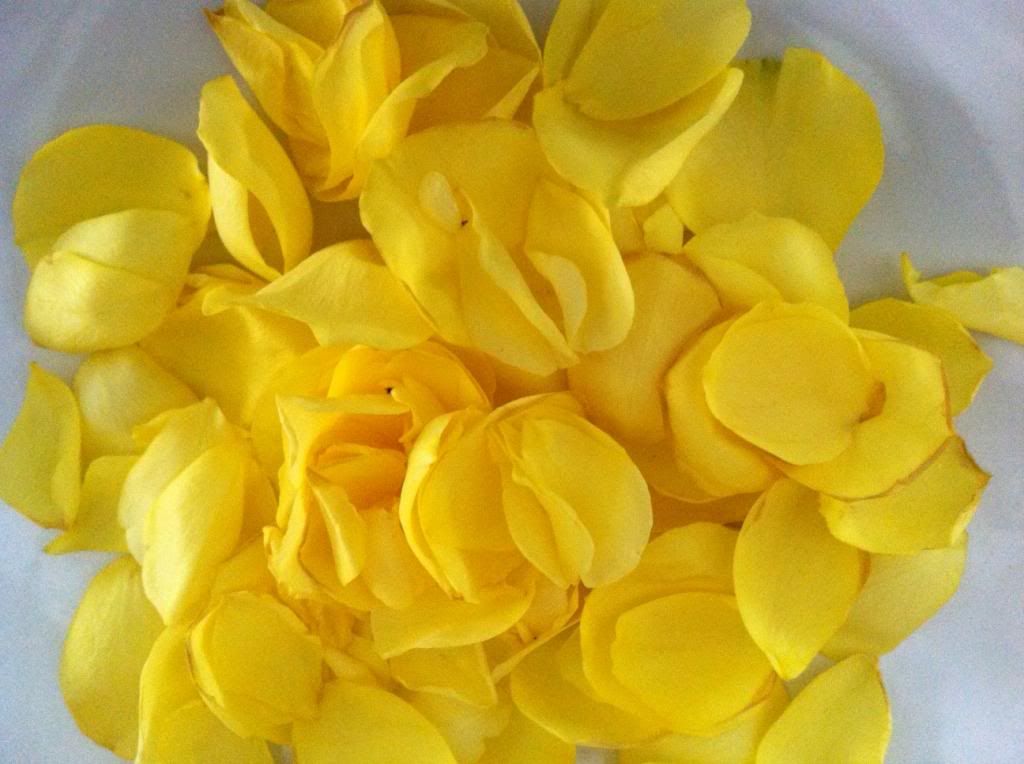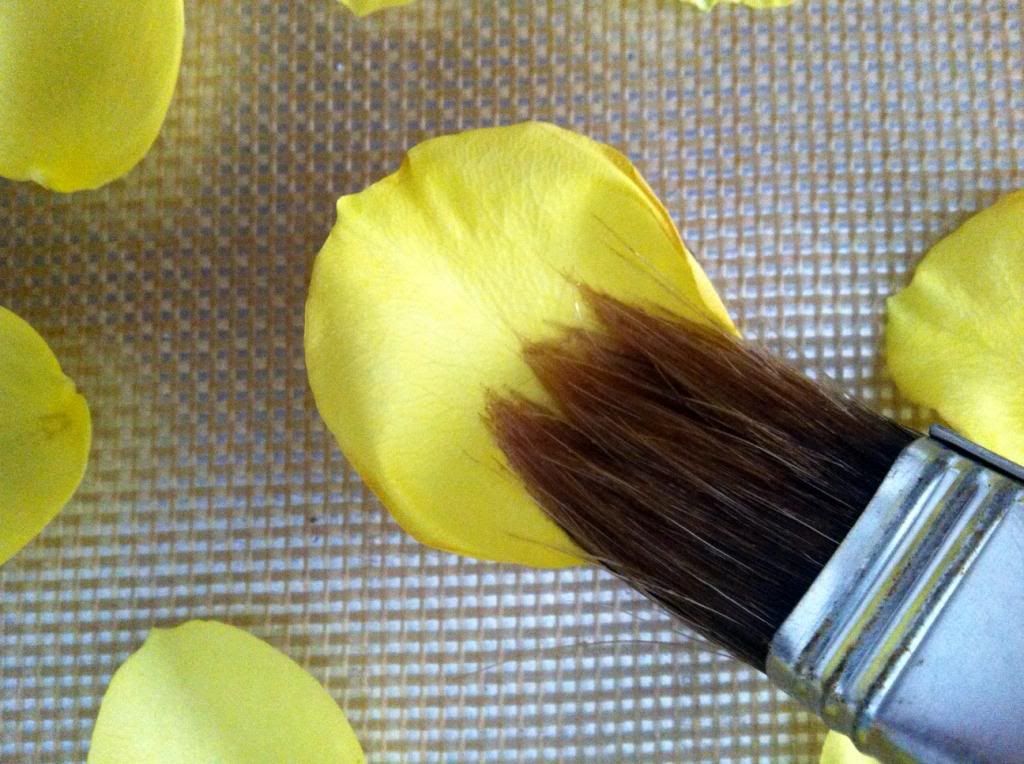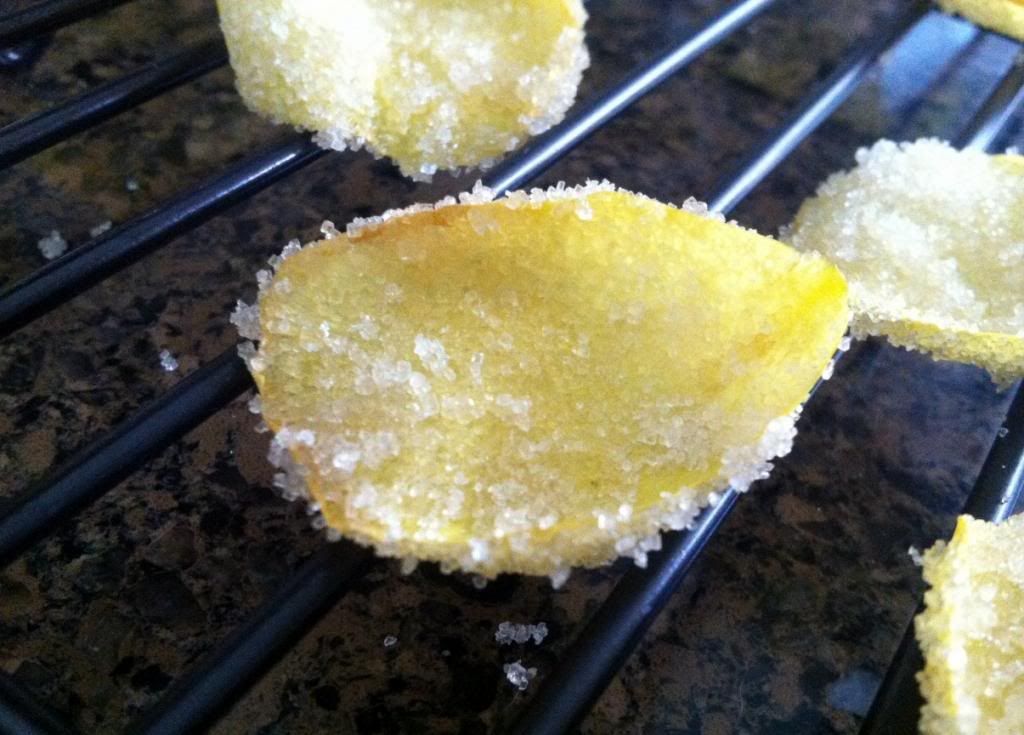 1. Lay the petals out on a baking sheet lined with a silicone mat or wax paper. Use a small brush to gently and evenly coat all sides of a petal. Place the petal into a small bowl containing the sugar-- use your index finger to gently press sugar against both sides of the petal. Place the sugared petal back onto the baking sheet or a cooling rack. Repeat with the rest of the petals. Allow it to dry for 3-4 hours before garnishing desserts.
*Notes: To speed things up, you can brush a few petals with egg whites at a time, but I would refrain from doing more than 4-5. They will dry up before you can get them coated in sugar. Also, technically they are edible, but these are also coated in raw egg whites-- I simply used them as a garnish.
Mini Earl Grey & Lemon Cupcakes
makes 18 mini cupcakes
Cupcakes
3/4 cup all purpose flour
1 tbsp earl grey tea leaves (the contents of one tea bag)
3/4 tsp baking powder
1/4 tsp salt
2 tbsp sour cream
1/4 cup half-n-half
1/4 cup unsalted butter, room temperature
1 tbsp canola oil
1/2 cup white granulated sugar
1 large egg, room temperature
1/2 tsp vanilla extract
1 1/2 tsp lemon zest (or 1 tsp of lemon extract/emulsion flavor)
1. Sift together the flour, tea leaves, baking powder, and salt in a bowl--set aside. In another bowl, whisk together the sour cream and half-n-half-- set aside.
2. Use a hand mixer to cream together the butter, oil, and sugar for about 3-4 minutes, on medium,until everything has combined well. Add the egg and beat for 5 minutes, on medium-high, until the mixture is light, fluffy, and a pale golden color. Beat in the vanilla and lemon zest.
3. Slowly add 1/3 of the the dry ingredients into the egg and butter mixture-- beat on medium-low. Add 1/2 of the sour cream and half-n-half mixture. Repeat with the remaining flour and sour cream/half-n-half (ending with the last 1/3 of the dry ingredients). Don't over mix the cake batter...stop beating as soon there aren't anymore dry patches.
4. Line the mini-muffin/cupcake baking sheet with paper liners. Use a mini ice cream scoop (or a tablespoon) to fill each cup about 3/4 of the way. Bake in a 350 degree F. oven for 12-14 minutes. Allow the cupcakes to cool slightly before transferring to a cooling rack (they must be completely cool before applying frosting).
Buttercream Frosting
1 cup unsalted butter, room temperature
1 tbsp earl grey tea leaves
1 tsp vanilla extract
1 tsp lemon zest (or lemon extract/emulsion flavor)
2 tbsp cold heavy whipping cream
1-2 cups powdered sugar (amount depends on your sweetness preference)
gel food coloring (optional)
1. Use a whisk attachment on a hand held or stand mixer to beat together the butter, tea leaves, vanilla, and lemon zest until it is smooth. Add the heavy cream. Slowly add the powdered sugar and continue to beat on
medium-high; stop occasionally to scrape down the sides and bottom of the bowl and also taste the frosting for the desired sweetness (I used about 1 2/3 cup of powdered sugar).
2. If you plan on adding color, add the desired amount and continue to mix the buttercream until the color is evenly distributed.
3. Frost cupcakes however you like. :)