When I am a guest at someone's house, I find it important to bring something over. When the occasion is dinner...you can count on me to bring dessert as my contribution.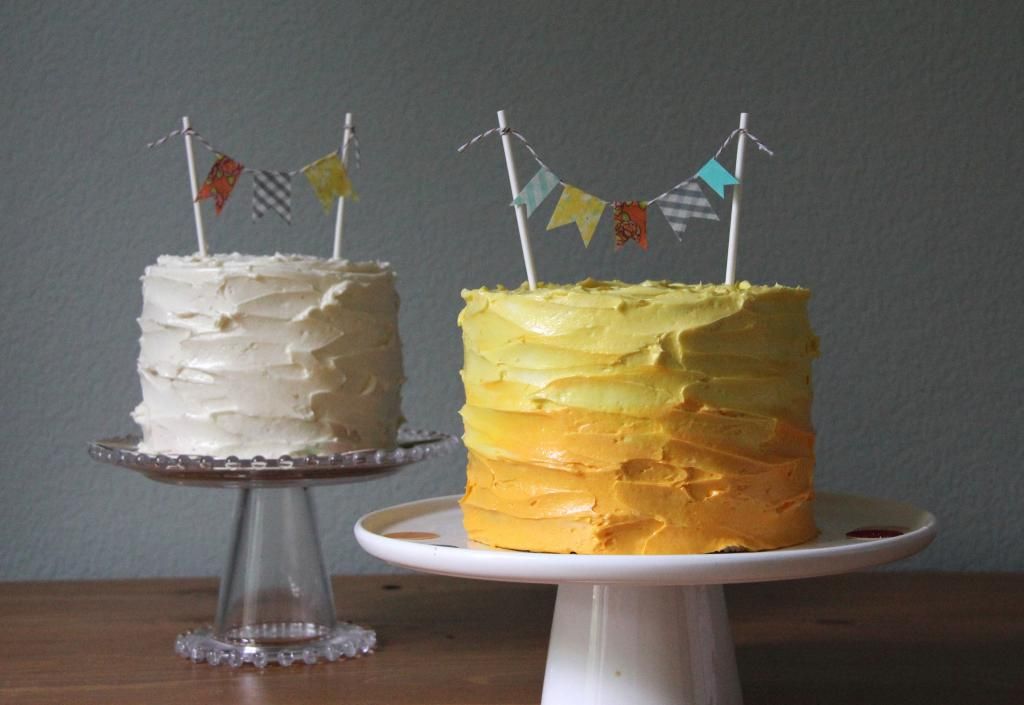 Last night, Henry and I went over to one of our pastor's house for an evening meal and I was excited to have an occasion to bake a cake. However, instead of just baking one cake, I made two-- one for dinner, and one to cut into for the blog.
Too much cake?
No.
Unless, you count eating some when I sliced the smaller cake...and then enjoying some more at dinner, again.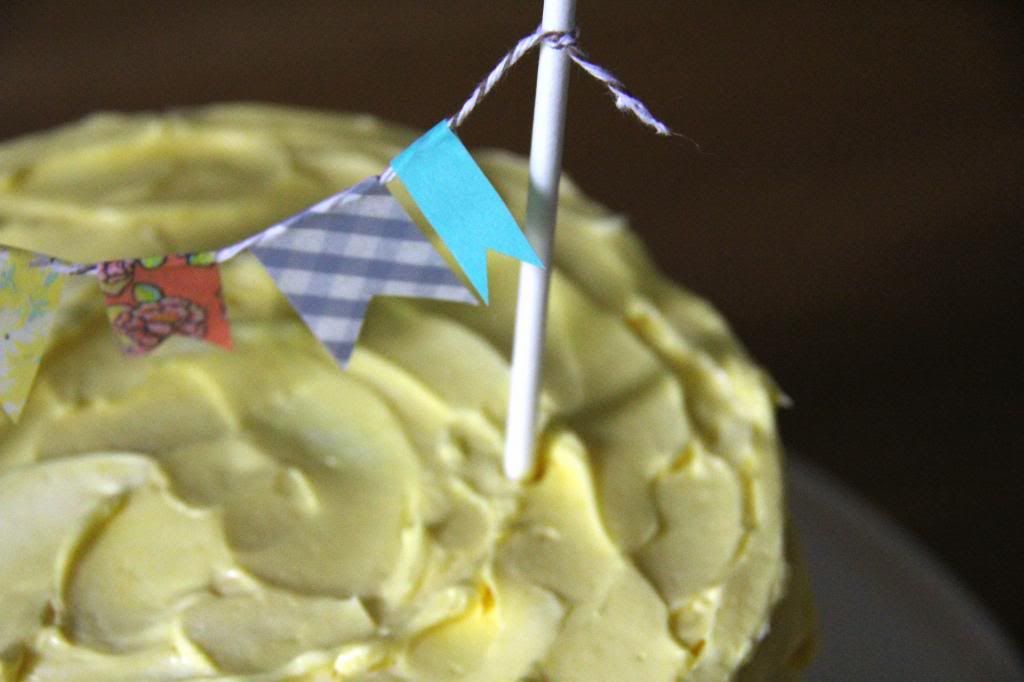 Err...okay, I guess I have to admit to maybe having too much cake for one day. However, with Lemon Poppyseed Cake Frosted with the silkiest White Chocolate Buttercream...how could I resist? I just couldn't! The crumb of the cake is moist yet firm. It has a classic flavor that is very similar to the perfect Lemon Poppyseed Muffins you may find at a good coffee house...except it is just a bit more delicate.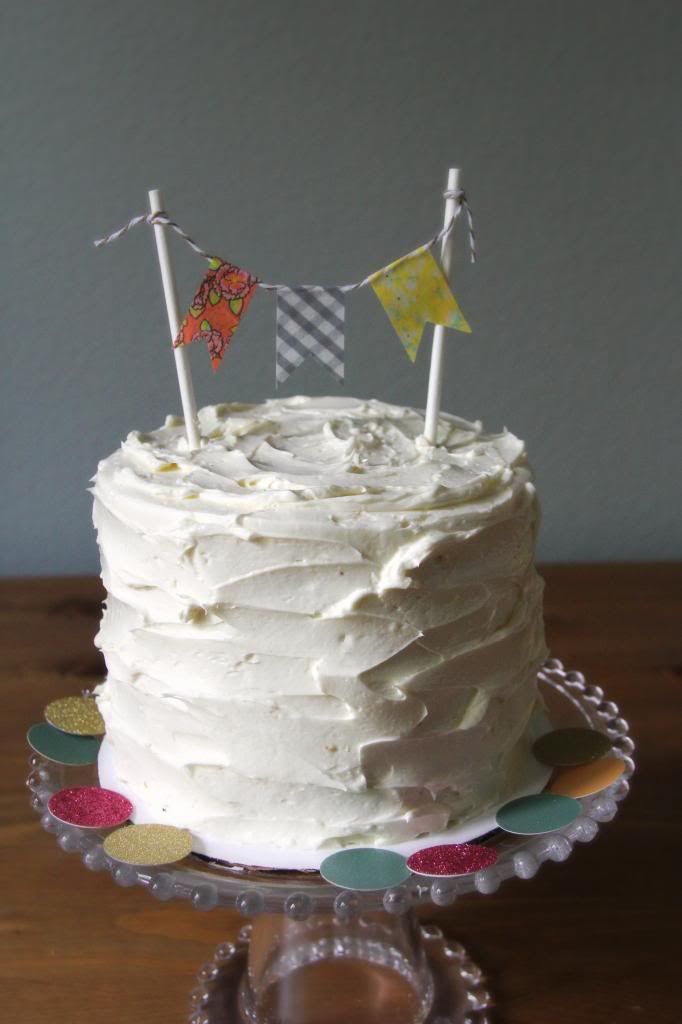 With such a vintage and classic taste, I decided to give it a charming and rustic look. I crumb coated each cake before using my spatula to make effortless streaks across the sides and top for an easy, yet adorable finish. To top it off, I made bunting banners with lollipop sticks, bakers twine, and assorted Washi tapes.
Mmm...I just love having reasons to bake and decorate a cake! Cheers.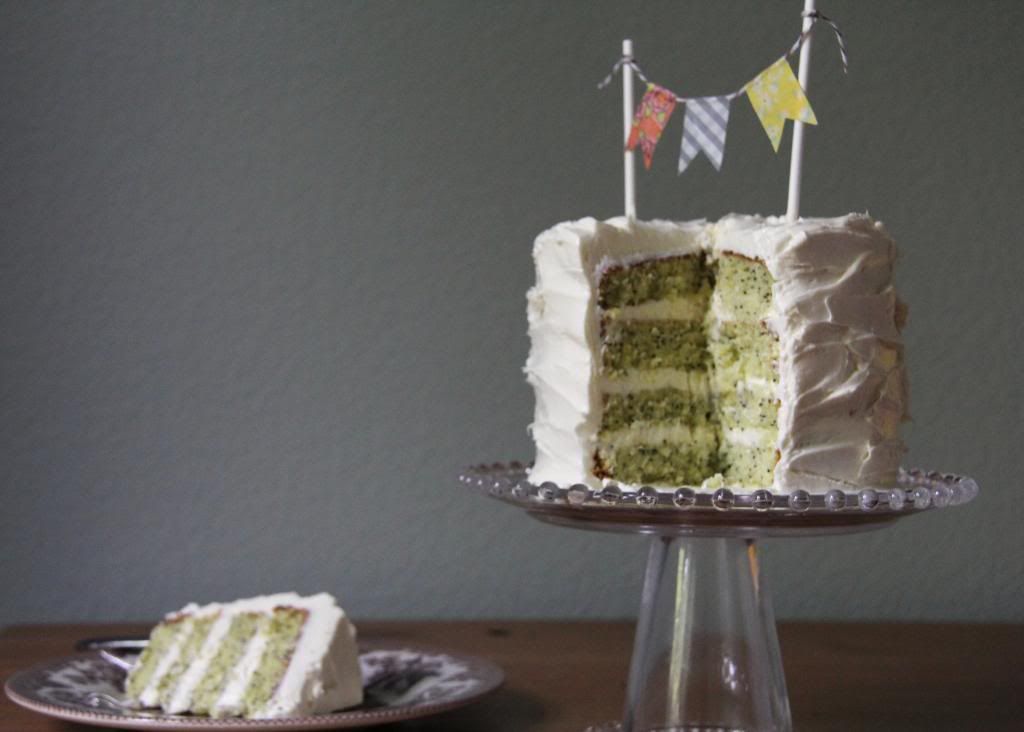 Lemon Poppyseed Cake
adapted from this recipe
Makes one two-layer 8" cake
2 cups all purpose flour
1 3/4 cup white sugar
4 tsp baking powder
1 tsp salt
1/4 cup poppy seeds
1 1/2 sticks unsalted butter (room temp.), cubed
1 cup milk (room temp.)
5 egg whites
2 large eggs
zest of one large lemon
2 1/2 tsp lemon oil/extract
1 tsp vanilla extract
1 1/2 tsp almond extract
2 tbsp canola oil
1. In a stand mixer with the paddle attachment, mix the flour, sugar, baking powder, salt, and poppy seeds on a low speed for about 3-4 minutes until everything is well combined. Add the butter cubes little by little and continue to mix on medium-low for about 2 minutes.
2. While the dry ingredients are mixing, whisk together the milk, egg whites, eggs, lemon zest, lemon oil, vanilla, and almond extracts in another bowl. When the dry ingredients are ready, slowly pour all, but a 1/2 cup, of the wet ingredients into the bowl (flour/butter mixture). Beat everything together on medium speed for about 2 minutes. Add the rest of the milk mixture and beat for another minute. Pour in the canola oil and use a spatula to fold it into the batter until it is well incorporated.
3. Divide the cake batter, 2/3 full, into two 8" prepared cake pans that have been buttered and lightly floured.
Bake at 350 degrees F. for 30-35 minutes-- a toothpick should come out clean and the sides should be a light golden brown. Allow the cake to cool completely before frosting.
*Note: Instead of baking an 8" cake, I used this recipe and divided it between two 6" and two 5" cake pans. Since I modified the size of the cake, I had to adjust the baking time. Here is a great chart to use as a reference when changing bake times-- the 6" cakes baked for 30 minutes and the 5" cake baked for about 25 minutes.
White Chocolate Buttercream Frosting (Swiss Meringue Based)
Makes about 10 cups -- store extra in a sealed airtight container in the refrigerator (when using leftover, bring to room temp. and whip up again before frosting other cakes).
1/2 cup heavy whipping cream
8 ounces white chocolate chips
10 large egg whites
2 cups white sugar
3 cups unsalted butter, cubed
2 tsp vanilla extract
1. In a small sauce pot, bring the heavy cream to a boil-- make sure to stir constantly to avoid burning the cream. Once it comes to a boil, immediately turn off the heat and pour the cream over the white chocolate chips (in a medium bowl). Use a rubber spatula to slowly mix the hot cream and white chocolate together until all the chips have melted. Once the ganache has come together, allow it to come to cool before using in the buttercream.
2. Use a double boiler, or place a large stand mixing bowl over a pot of simmering water (make sure the water doesn't touch the bowl), to heat the egg whites and sugar. Whisk this together constantly until the temperature reaches about 160 degrees F-- about 8-10 minutes when the sugar is dissolved, egg whites are hot, and everything is foamy.
3. Turn off the heat and transfer the bowl to the stand mixer. Use the whisk attachment and beat the meringue on high until it becomes thick, glossy, and the bowl feels neutral to the touch. As soon as the bowl is cool enough, reduce the speed to medium low and slowly add the butter and then the vanilla extract. The buttercream may appear chunky and curdled, but if it does, continue beating and everything will come together. The frosting should be smooth and thick.
4. Slowly pour in the cooled white chocolate ganache and continue to beat the buttercream for 1-2 more minutes on medium-high so everything gets mixed together well. If using food gel coloring, add now and mix until the color is even.
To assemble the cake
1. Level and torte each cake layer.
2. Place one layer onto a sized cake board, add about 1/4 cup of buttercream on top, and use a spatula to spread it evenly across.
3. Place another layer on top and repeat the filling process. Continue this until you have reached the top layer.
4. Once the cake is filled and leveled, crumb coat and/or frost as desired.