Yesterday, I made the best strawberry pancakes I have had, yet! Hubby and I wanted to use the holiday time off to have one of our favorite traditions-- pancake breakfasts. This was a meal I had been looking forward to all weekend and I absolutely did
not
cut any corners. These are fluffy, buttery, and a little nutty from the almond. Although I am a huge fan of healthy and low-fat pancakes, this was a day for me to take out the butter and all-purpose flour and use it without a single ounce of remorse.
And, well. Let's just say there were no guilty feelings involved after I devoured my berry pancakes at breakfast.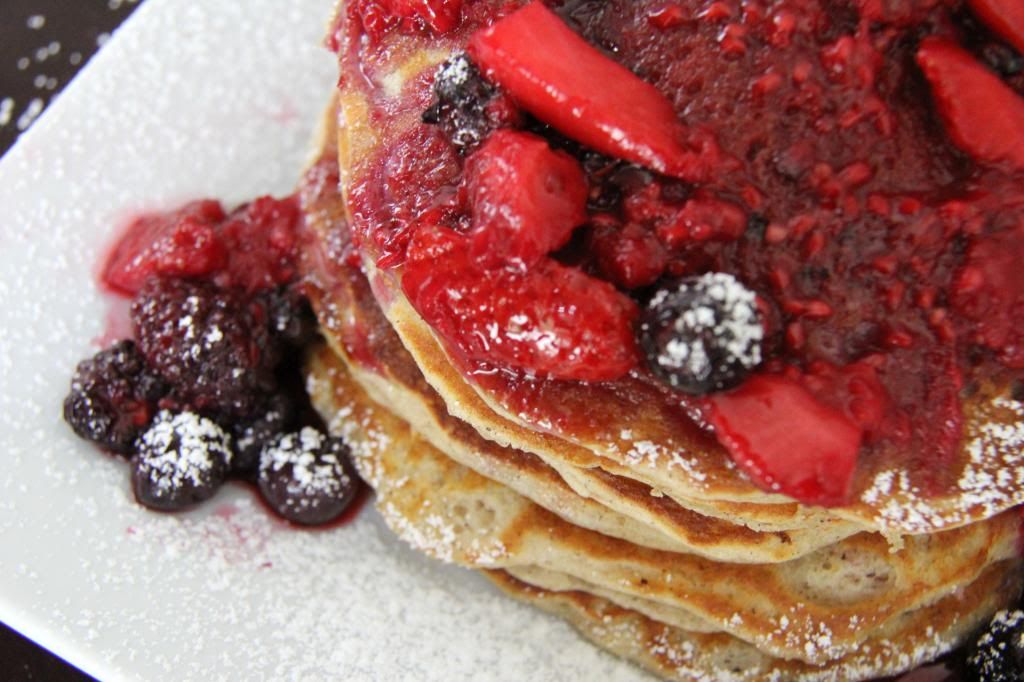 And again at lunch (pancakes are my weakness!).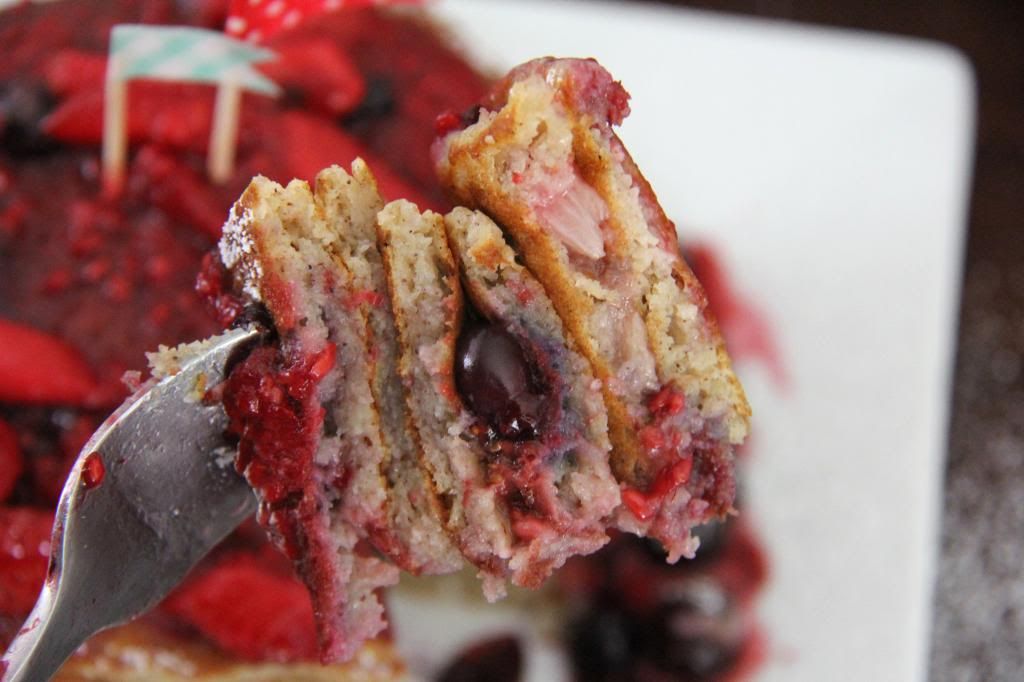 Too much? Uh...don't think so. :)
Strawberry-Almond Pancakes
modified and adapted from here
serves 2 (makes about six 6" pancakes)
1/2 cup all-purpose flour
1/2 cup almond flour/meal
1 1/2 tbsp white sugar
1 tsp baking powder
1/2 tsp baking soda
1/2 tsp salt
1/2 tsp ground cinnamon
3/4 cup milk (I had 2%)
2 tbsp apple cider vinegar
1 large egg
1 tsp almond extract
1/2 tsp vanilla extract
3 tbsp unsalted butter, melted
1 cup sliced/roughly chopped strawberries
1. In a bowl, whisk together the flour, almond flour, white sugar, baking powder, baking soda, salt, and cinnamon. Set aside.
2. In another bowl, combine the milk and apple cider vinegar. Allow this to sit for a few minutes and then whisk in the egg, almond extract, vanilla extract, and melter butter.
3. Pour the dry ingredients into the wet ingredients; use a fork to
gently
stir everything together. It is important not to overmix and still have a lumpy batter-- just make sure there are no longer any "dry patches" of flour.
4. Ladle about 1/4 cup of the batter onto a nonstick, or greased, griddle/skillet on medium heat. Place several strawberry pieces onto the pancake while the other side is cooking. Once the edges start to bubble and thicken (about 4-5 minutes), use a spatula to flip the pancake so the other side can cook for an additional 3-4 minutes. The pancakes should be golden brown and slightly crisp on the edges. Serve with Fresh Ginger Berry Compote (or maple syrup!).
Instead of just topping my stack of pancakes with the compote, I spread a little in between each one to get a little more berry in every bite.
Fresh Ginger Berry Compote
makes about 2 cups
4 tbsp unsalted butter
1 cup fresh blueberries
1/2 cup fresh roughly chopped strawberries
1/2 cup fresh blackberries
1/2 cup fresh raspberries
1 1/2 tsp freshly grated ginger
1/4 + 1 tbsp white sugar
zest of one lemon
1. In a small sauce pot, melt the butter on medium heat. Add the berries, ginger, sugar, and lemon zest. Stir gently (the raspberries will fall apart easily, but you don't want to break all fruit completely apart) and continue to cook on medium-low for about 8-10 minutes. Spoon over your pancakes (and save the leftovers to serve over ice cream or other desserts).