Okay, first...let's get one thing cleared up.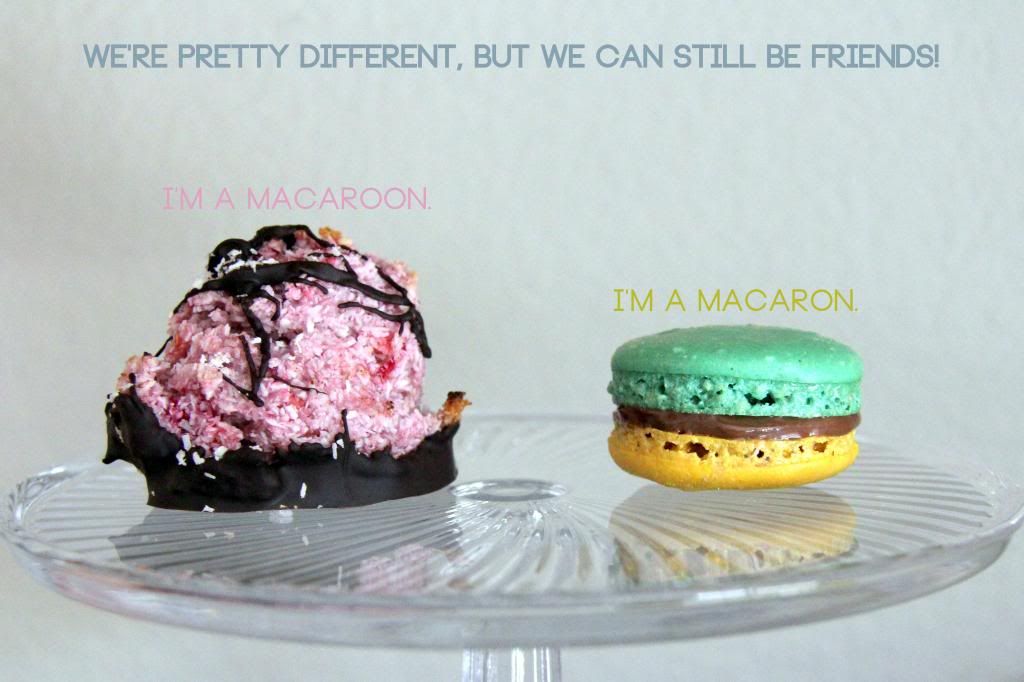 When it comes to macaroons and macarons, there seems to be a lot of confusion. I mean, everyone seems to know what each cookie is individually and it is nearly impossible to confuse them for each other in sight or taste, but their names are often mixed up-- a common error.
Macaroons are the simple and always satisfying coconut confection. Typically, it is made with a mixture of shredded coconut, egg whites, and some sort of sweetening agent (condensed milk or sugar).
Macarons (pronounced MAC-A-RON) are the delicate and intriguing French meringue based cookie-- an older, more elegant, and more pristine big sister of our average sandwich cookie.
This is a mistake that I myself made years ago until I was properly informed. I remember feeling so silly asking for a, by definition, chewy coconut cookie when I wanted a delightful burst of sugar and joy in the form of a round and pretty French treat.
Alright, alright. Now that that's settled, let's move on to these dreamy Raspberry-Coconut Macaroons.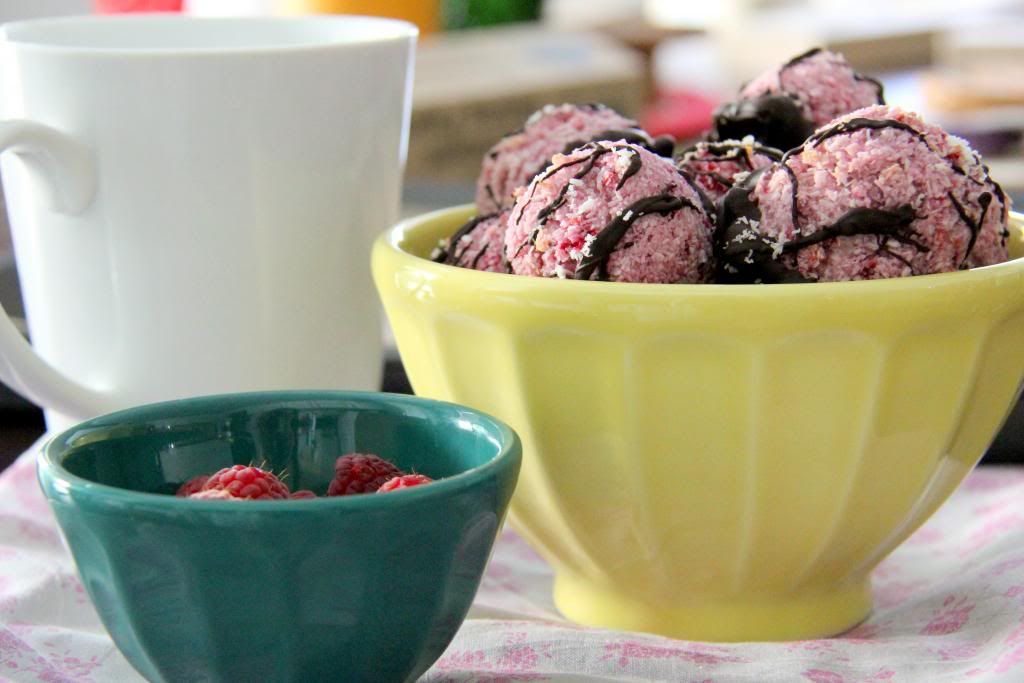 Last evening, I went back and forth staring into my cupboard and refrigerator thinking of a dessert to make for a potluck (it took place this afternoon). I wanted to contribute something that wasn't too sweet or decadent, yet still hit the spot. Well, it was a good night for recipe brainstorming and creating because these little bundles of joy surely fit the bill.
Chewy. Slightly tart and fruity. Perfectly sweet. Finished with robust dark chocolate. Pink and oh-so cute!

Hello-oo Raspberry-Coconut Macaroons!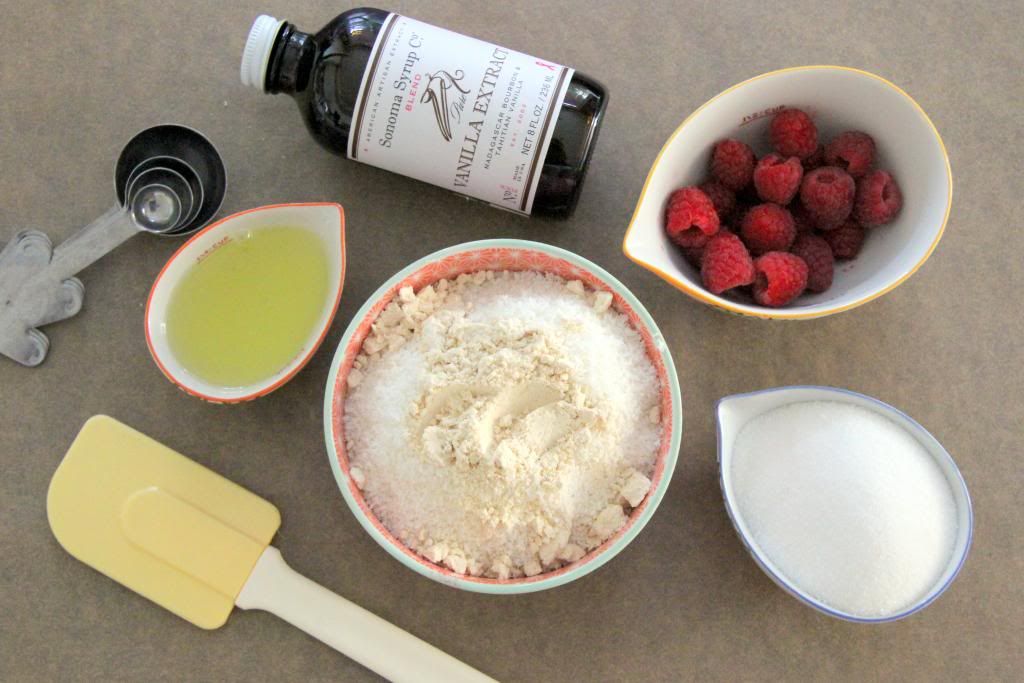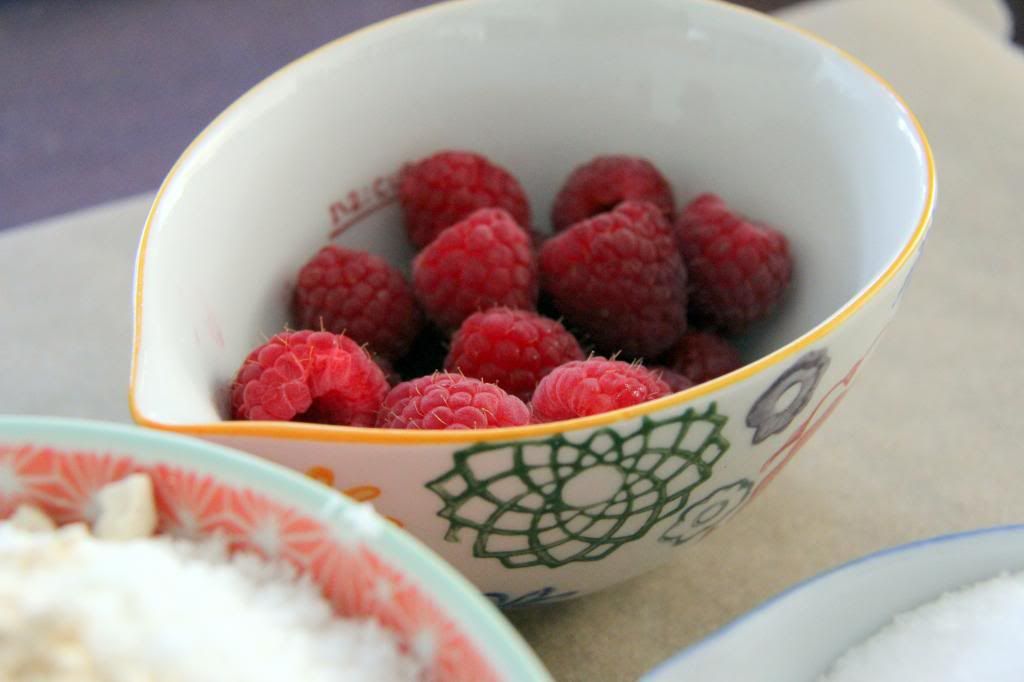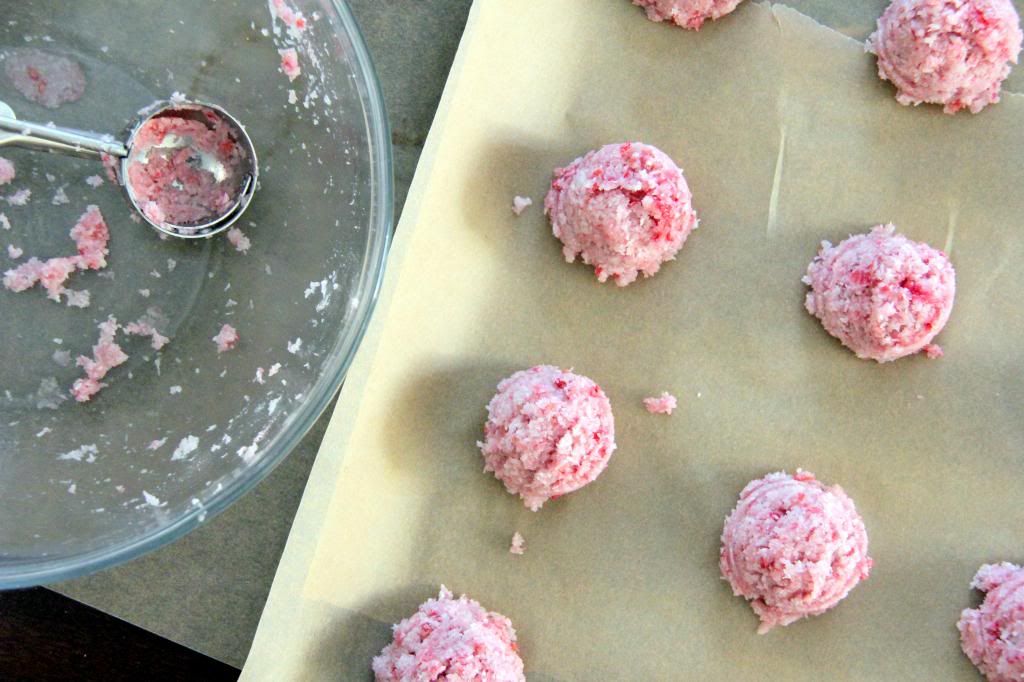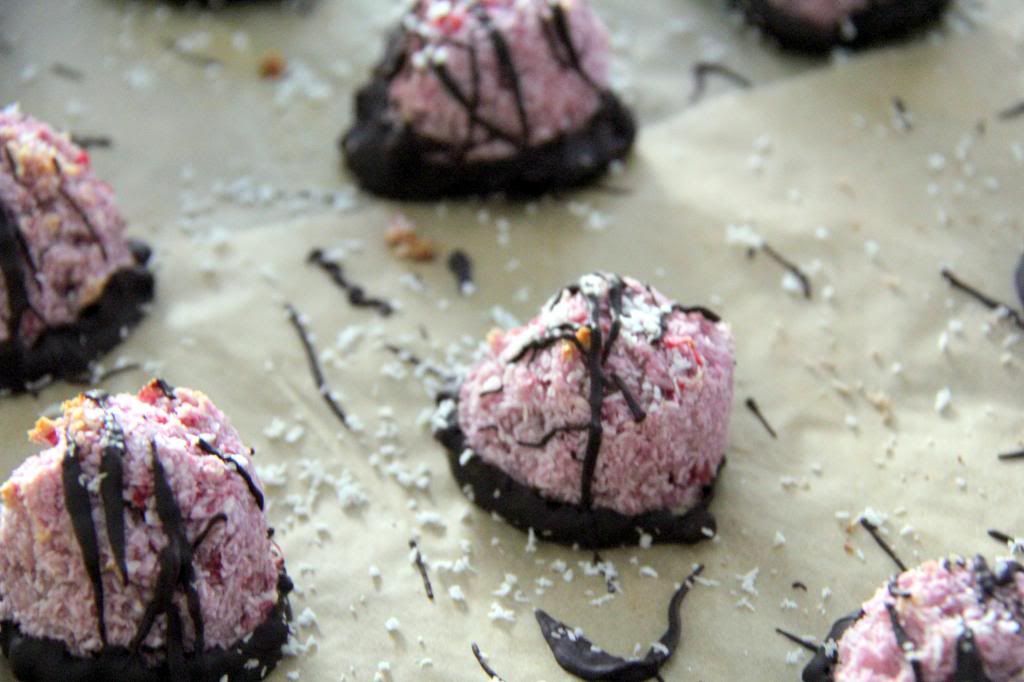 Raspberry-Coconut Macaroons
makes 15 macaroons
1/2 cup fresh raspberries
2 cups unsweetened finely shredded coconut (if you can't find finely shredded, the regular kind will do...or you could even give it a few pulses in the food processor)
2 1/2 tbsp coconut flour
2/3 cup white sugar
3/4 tsp salt
1 tsp vanilla extract
3 egg whites
8 oz dark chocolate (I prefer 65% or more cacao content...the dark chocolate flavor provides a good balance of sweetness)
1. In a bowl, whisk together the shredded coconut, coconut flour, white sugar, and salt.
2. In another bowl, use a fork to mash up the raspberries until there are no longer any large clumps of fruit. Pour in the dry coconut and sugar mixture and use a spatula to fold together the ingredients.
3. Lightly whisk the egg whites, with the vanilla extract, to a light foamy stage. Pour in the egg whites into the raspberry and coconut mixture; use a rubber spatula or fork to thoroughly combine everything.
4. Use a mini-ice cream scoop, or tablespoon, to scoop out rounded portions-- really pack in the scoop so each macaroon is squished together and holds its shape. Place each round on a baking sheet lined with parchment paper. Bake at 300 degrees F. for about 25 minutes. The macaroons should be golden brown on the bottoms and just around the edges. Remove from the oven and allow them to cool.
5. Melt the dark chocolate in a bowl, either on a double broiler or in the microwave in 30 second intervals. Gently dip the bottoms of each cooled macaroon into the chocolate-- make sure the bottoms and a little of the bottom edges are coated-- and then place them back on the parchment paper. Dip a fork into the chocolate and drizzle more chocolate across the tops of the cookies. If desired, sprinkle a little more unsweetened coconut on the top of each macaroon. Allow the chocolate to cool and harden before serving (or if you're lazy like me, pop them in the fridge for a speed-chill).